Melrose Billiards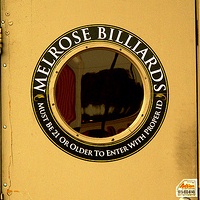 Exquisite Pool Games
Melrose Billiards is one of the outstanding Tennessee pool halls that are worth mentioning. The pool tables, the pool events and the pool players gathered in Melrose Billiards bring out the essence of the place with other features that make it astounding.

The drinks keep coming all night long, the kitchen is also open with a variety of foods for all the patrons. Also, don't forget about the well dressed and humble waiters who serve you all night long. Melrose Billiards is definitely one of the best Tennessee pool rooms.