High Pockets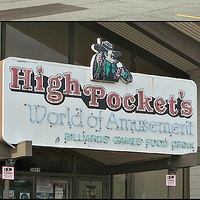 Shoot a pool game with your friends
Having one of those nerve- wrecking days in the office? Tired of all the meetings you have to attend? Well, you can now relax in the evenings at High Pockets and shoot a pool game with your friends.

Among the best Tennessee pool halls, High Pockets, is definitely the place to be on late night evenings and weekends. Enjoy your pool games with your friends, alongside a cold beer and some fried food. Thanks to High Pockets, your evenings are now fun-filled.